Send Gifts to Germany
We understand that ordering with a company overseas can be scary. This shop is run by a company based in Germany. Running a business here we assure you that online store regulations are under the strictest regulations you can find worldwide! Your online order is absolutely safe with us - so rather focus on your giving experience. We are effectively operating our service for Germany since 2002.

When you scroll down you will find all legal information as well as the location of our warehouse and our names and our social media sites. We are proud to be allowed to use the Ecommerce Europe Trustmark.

We send all our gifts and gift baskets for Germany from our warehouse where all our gifts are designed, assembled and given the special touch. Find more than 150 gifts and gift baskets plus a great range of additional gifts we send to Germany.

Gift Baskets to Germany
We offer different kinds of gift containers for all of your international needs. Some of our gifts are delivered in wicker baskets, others in wooden boxes and others in high quality gift boxes with an exclusive finish. These keepsake boxes are exclusive for our store.

We made sure that every gift container is part of each gift. All our gourmet gift baskets, wine gifts or chocolate gift hampers to Germany include not only best food and good wines, our high-quality gift containers add extra value to your choice. Take a look around and see for yourself!

Here at Gift Baskets Germany we take care that your gift makes an excellent impression with a memorable effect when it is opened and consumed. We are here to make y ou look good.

Gifts for Germany
Take a look around our gift basket store for Germany and you will see that our gifts for Germany are filled to the brim with the finest European and international wines, finest European chocolates, gourmet treats and opulent champagne gifts. We put our hearts into it, make them with love and care and make sure your gift for Germany arrives in perfect condition.
Gift Hampers Germany
Strange enough, an American would not think about a delicious gift basket when hearing the word "hamper". Nevertheless, our Australian and New Zealand friends and our friends in the UK would strongly disagree when told that Americans can only think about a laundry basket when hearing the word "hamper". For us at Gift Hampers Germany there is no difference, speaking of gift baskets and gift hampers it's exactly the same.

We offer a great range of Christmas Hampers for delivery in Germany. Show your favorite family, friends, corporate colleagues and partners that you care!

Online Gifts for Germany
Buying gifts online is the easiest and fastest way for you to send gifts to Germany. We offer this online gift service for Germany and the rest of the European Union.

You can browse through different price ranges or occasions, or if you already have an idea what should be inside your gift, check out the content links and build your own perfect gift by using our additional gifts.

They will get you directly to our large range of online gifts for Germany.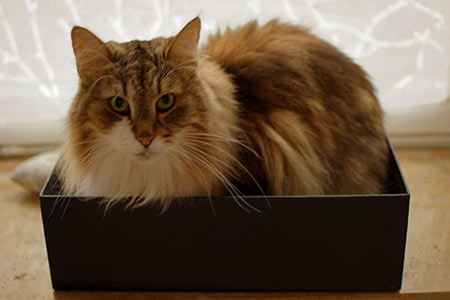 Cat Gunvald in one of our original gift boxes

10 good reasons for our online gift shop for Germany
Owned and managed by two (German/Austrian) business partners who make sure all gifts are made with care





2. Situated in Germany where we fulfill the strongest regulation standards for online stores worldwide.





3. Includes descriptions with detailed ingredients and allergy/allergen triggers in foods and drinks according to European Regulation.





4. Deliveries throughout Germany and the rest of Europe come straight from our warehouse in Germany, resulting in faster delivery times.





Due to our central location in Europe we provide low shipping charges for Germany and we guarantee no hidden delivery costs in our prices.





Selecting only the finest brands, no supermarket food brands because we believe gift baskets should be something special.





7. All our wines are tested and approved by the management and the staff - no, we're not constantly wine-tasting, but a glass or two of wine is perfect for inspiration ;)





All gifts for Germany are hand-made by our dedicated team of enthusiastic gift basket designers.





9. We understand that we cannot always fit all needs, which is why we offer additional gifts for each gift basket in our range. Add as many bottles of wine, Teddy bears or other awesome gifts with no extra shipping charges to your gift - make it personal with their favorite things.





Our business Geschenk & Korb is approved by the Ecommerce Europe Trustmark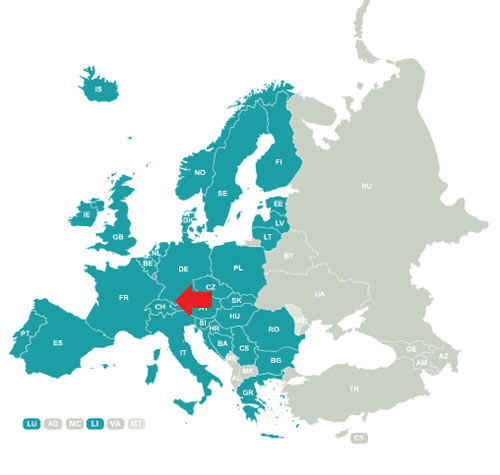 It certifies that Haendlerbunds label meets all European and national legal requirements, as well as Ecommerce Europes best practices on consumer protection as detailed in the Ecommerce Europe Trustmark Code of Conduct.

It also guarantees the possibility for any European consumer to refer to Ecommerce Europe in case of a dispute relating to cross-border purchase on a website using Haendlerbund/Ecommerce Europe label.

Christmas Gifts Germany
Order your
Christmas Gifts to Germany
now! We send your Christmas Gifts all over Europe. Please place your Christmas Gift Baskets order as soon as you can. Some of our Gifts and Gift Baskets might be sold out quickly.

Gifts to Germany, Gifts to Paris, Gifts to Hamburg, Gifts to Munich and other cities in Germany, and Gifts to London as well as Gifts to Paris can be sent shortly before Christmas - they will still arrive well in time. Gifts to other international destinations might take a little longer. For example, Gifts to Switzerland will take longer than other destinations, as all parcels have to pass custom controls.

Experience shows that those parcels do take a really long time to pass before Christmas. We've had parcels that arrived two weeks after Christmas. So please consider this before you order. Just in case you're late already, think about a New Years Gift for Germany instead of a Christmas Gift to Germany. Gifts and Gift Baskets to Spain, Gifts to Italy, Gifts to the UK (mainland), Gifts to France (mainland), Gifts to Sweden, Gifts to Denmark, Gifts to Ireland will take longer than usual, so if you're not sure, also consider a New Years Gift or a greeting card text that includes a New Year message, for example. We promise to do our best to deliver your gifts in time!

Please make sure to place your Christmas Gifts order for international shipping in time. Delivery information to all European countries will show up, after you've chosen the article. From December 6th please add at about 2-5 business days on shipping time, as at this time of the year, due to the amount of parcels that are on their way to their happy receivers, it will take a little longer for your gift basket to arrive. The closer to Christmas the longer delivery services need to bring them, so many Gifts to Germany won't be there in time if you're waiting too long.

Christmas Gift Baskets Germany
Here at Gift Baskets Germany you will find an outstanding range of
Christmas Gift Baskets to Germany
. No matter what you're looking for, we have it! Christmas time is the time of great joy and delightful pleasure - make yourself some tea or coffee, sit down and check out our great range of Christmas Gift Baskets for Germany. Choose from one of our many irresistible Gift Baskets and surprise a loved one with a festive treat this season.

Ordering for friends, family or for your corporate partners and collogues that are a little farther away from home? Find a fine selection of Christmas Gift Baskets available for delivery in Germany and the rest of Europe as well.

Who I am
My name is Susanne and I'm the founder of Gift Baskets Germany. Born in Austria, I'm living in Germany for decades, not before spending some time abroad, like in the UK in London and Belgium to be exact

Our Gift Basket warehouse is at the beautiful Lake Constance (Bodensee) in the very South of Germany where my business partner and friend Michaela makes sure that all your Gifts and Gift Basket are made with love and sent with care. All gifts are hand made by our dedicated team of enthusiastic gift basket designers who love this business just as much as we do.

When standing at the Lake Constance it's so close that you can even see Switzerland on the other side and Austria to the left with their Alps (when there is no fog). The region is known for growing hops for the excellent German beer. A short two hour drive away and then we are in lovely France! To Italy it's also a 2 hour drive only. Liechtenstein is 1 hour and 15 Minutes away. We are very lucky to live in a region where you can get to other countries that fast!



Gift delivery to Germany
Gifts, Hampers and Gift Baskets to Germany, Ansbach, Augsburg, Bergisch Gladbach, Berlin, Bielefeld, Bochum, Bonn, Bottrop, Bremen, Bremerhaven, Brunswick (Braunschweig), Chemnitz, Cologne (Köln), Darmstadt, Dortmund, Dresden, Duisburg, Düsseldorf, Erfurt, Erlangen, Essen, Frankfurt am Main, Freiburg, Fürth, Gelsenkirchen, Gera, Göttingen, Hagen, Halle, Hamburg, Hamm, Hanover (Hannover), Heidelberg, Heilbronn, Herne, Hildesheim, Ingolstadt, Jena, Karlsruhe, Kassel, Kiel, Koblenz, Krefeld, Leipzig, Leverkusen, Ludwigshafen, Lübeck, Magdeburg, Mainz, Mannheim, Moers, Munich (München), Mönchengladbach, Mülheim, Münster, Neuss, Nuremberg (Nürnberg), Oberhausen, Offenbach, Oldenburg, Osnabrück, Paderborn, Pforzheim, Potsdam, Recklinghausen, Regensburg, Remscheid, Reutlingen, Rostock, Saarbrücken, Salzgitter, Siegen, Solingen, Stuttgart, Trier, Ulm, Wiesbaden, Witten , Wolfsburg, Wuppertal, Würzburg
Delivery duration information for Germany:
Standard shipping duration for Germany (please add weekends and public holidays): 1 - 2 business days
(Monday - Friday)

Orders received from Monday - Friday by 9am (CET) will be shipped the same day, later incoming orders will be shipped the following working day unless you will choose a later delivery date.


Local date and time now: (d/m/y) 27.7.2017 14:27
Please note that parcels in Germany will not be delivered on Saturdays (except Express Delivery 12:00 am), Sundays or holidays .
Shipping information to Germany:
When you provide us with complete and accurate delivery information, your gifts to Germany will be delivered promptly and you will be spared re-delivery charges. Please check your delivery address carefully. Incorrect or incomplete addresses will result in a Euro 20,00 handling charge in addition to all charges accrued for re-shipping each item.

We cannot ship to P.O. Boxes.
Gifts and Hampers to Hospitals and Hotels in Germany
Please confirm the recipient is still in the hospital/hotel before scheduling delivery.

When placing an order for delivery to a patient/guest please make sure that you include as much information about the patient's/guest's location as possible. Such as patient/guests name, Hospital, Department (i.e Maternity), Room no., and the Hospitals and Hotels complete address. Usually parcels are delivered to receptions. Please be aware that we are not responsable if receptions fail to forward parcels immediatly. It might be helpful if you inform the recipient that there is a gift on its way.
Shipping restrictions for Germany:
There are no shipping restrictions for Germany. Alcohol gifts will only be shipped to adults.


Shipping insurance for Germany
All gifts and gift baskets for Germany are insured against loss and damage during shipping at no extra cost to you.


Christmas Gifts for Germany
Please make sure to order your Gifts and Gift Baskets to Germany for Christmas delivery in time.

All delivery services for Germany do take up to 3 or more working days longer than during the rest of the year due to the amount of parcels on their way at this busy time of the year. The closer to Christmas you order, the longer your parcel will take. We always try to deliver as close to your desired delivery date as possible. We do consider extra time and weather conditions in Europe as well.