TEDDY BEAR GIFTS - send Plush Toys to Europe
Teddy Gifts
Just look at them. Too bad that you can't touch them. But let us assure you, these cuddly Teddy Bears and Plush toys are great companions with a cuddly touch, we only choose very good quality products.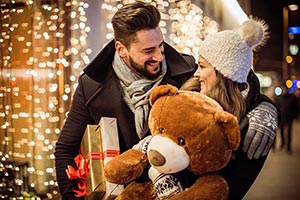 Send Teddy Gifts to Europe
We ship your lovely gift wrapped Teddy all over Europe. Send him on a trip to Germany or Austria? What about sending Teddy to Sweden or the Netherlands or even France. Some will want to travel to the United Kingdom (UK) or to Italy. We'll make it happen!
Plush Toys
Here we not only offer cute Bears, we also offer adorable plush toy animals for your gifting needs all over Germany, the Netherlands, France, Austria, Denmark, Sweden and all other countries in Europe. Check out how cute plush toys are and send them to children or adults.
Teddy and more?
So this Teddy Bear doesn't have to come solo! Use our additional gifts you find with each article and add them to your friend! A bottle of fine wine maybe? Or a second Teddy? For birthdays we offer a cute sash or balloons. Sending wishes from the USA? Add a USA candle! All additional gifts ship free with your Teddy Bear!