International Gifts and Gift Baskets for Europe
International Gift Baskets for Europe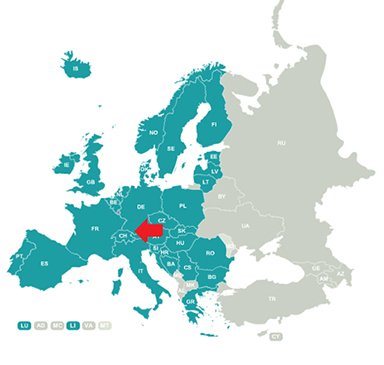 Your source in Europe
Gift Baskets Europe is your international online shop of gifts for your gift giving needs in Europe! Our beautifully hand-crafted hampers contain foods, chocolate and wine from all over the world. Sit down and take some time to find the perfect international gift for your personal and corporate needs. It's your choice if you prefer using a special price range or if you browse by occasion like birthday, wedding, thank you for men or women or by content like gourmet, chocolate, alcohol, snack etc. We provide a free greeting card service plus extra cards for Birthdays or the Holidays and others.
Large range of online hampers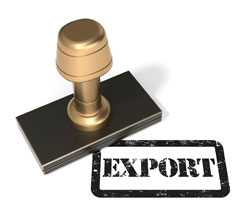 Next to our big range of gourmet gifts in our shop we also provide Baby gifts, Teddy gift delivery and even additional gifts like flowers, wine or champagne. We also have special birthday gifts to add to our gourmet, chocolate and wine gift baskets. Say thank you with one of our thoughtful Thank You gifts. Once you have made the order you will get access to your order account where you can also track your parcel on it's way on international gift delivery across Europe.
Assistance for your gifting needs outside Europe
In the past we have worked with many international gift baskets companies world wide, if you need a gift delivered to Australia, New Zealand, the USA, Canada or anywhere else, do not hesitate to contact us. We are happy to help you with contacts. We also help you with
your international corporate gift needs.
Warehouse in the heart of Europe, South of Germany
Est. in 2002 we have a long experience with international gifts delivery all over Europe. There are many things to consider, each country is different, so if you have any question about delivery terms, please do not hesitate to contact our team. We know our market!
International Gifts for Europe
Delivery duration and shipping cost information: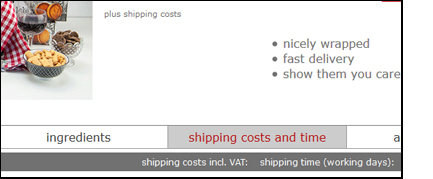 Standard shipping duration for Europe (please add weekends and public holidays) Click on the gift you want to choose, and click on "shipping costs and time" - you'll find all details for your destination country there.
Orders received from Monday - Friday by 9am (CET) will be shipped the same day, later incoming orders will be shipped the following working day unless you will choose a later delivery date. (In case there is a Public Holiday here in Germany, where we are located, we will ship the following working day.
-click here for Public Holidays in Germany on Wikipedia-
)
Please note that parcels in Europe will not be delivered on Saturdays, Sundays or public Holidays in the destination country. Deliveries to Islands in any part of Europe might end with the recipient paying taxes to their government. Please ask us if you need more information.
Delivery Address information:
When you provide us with complete and accurate delivery information, your international gift baskets will be delivered promptly and you will be spared re-delivery charges. Please check your delivery address carefully. Incorrect or incomplete addresses will result in a Euro 20,00 handling charge in addition to all charges accrued for re-shipping each item. At the moment we cannot ship to P.O. Boxes.
Hampers to Hospitals and Hotels
Please confirm the recipient is still in the hospital/hotel before scheduling delivery.

When placing an order for international gift delivery to a patient/guest please make sure that you include as much information about the patient's/guest's location as possible. Such as patient/guests name, Hospital, Department (i.e Maternity), Room no., and the Hospitals and Hotels complete address. Usually parcels are delivered to receptions. Please be aware that we are not responsable if receptions fail to forward parcels immediatly. It might be helpful if you inform the recipient that there is a gift on its way.
Shipping restrictions for some countries:
Alcohol gifts will only be shipped to adults. There are shipping restrictions to NON EU countries and Sweden and Finland regarding alcohol. We will replace alcohol in case you are ordering a gift that contains alcohol to the bespoke countries.
Shipping insurance
ALL our hampers to European destinations are insured against loss and damage during shipping at no extra cost to you.
Christmas Hampers for Europe
Please make sure to order your international gifts and gift baskets for international Christmas delivery in time.

All delivery services do take up to 3 or more working days longer than during the rest of the year due to the amount of parcels on their way at this busy time of the year. The closer to Christmas you order your international gift baskets, the longer your parcel will take. We always try to deliver as close to your desired delivery date as possible. We do consider extra time and weather conditions in Europe as well.