Gift Baskets to Europe
At times it is difficult when your family and friends are living abroad and you cannot see them. Especially for occasions like birthdays, weddings, New Born Babys or Christmas you can feel the dilemma. Our gifts and gift baskets are created to fit your needs so you can show them just how much you care.

10 good reasons why to choose Gift Baskets Europe
Owned and managed by two German/Austrian business partners. We are professional gift basket designers with more than 20 years of experience.





Situated in Germany where we fulfil the strongest regulation standards for online stores worldwide.





Incl. descriptions with detailed ingredients and allergy triggers in foods and drinks according to European Regulation.





Deliveries throughout the European Union and the rest of Europe from our warehouse in Germany, resulting in faster delivery times





Due to our central location in Europe we provide low shipping charges for Europe and we guarantee no hidden delivery costs in our prices





Selecting only the finest brands, no supermarket food brands because we believe gift baskets should be something special.





All our wines are tested and approved by the management and the staff (no, we're not constantly drunk, but a glass or two of wine is perfect for inspiration)





All gifts are hand-made by our dedicated team of enthusiastic gift basket designers





We understand that we cannot always fit all needs, which is why we offer additional gifts for each gift basket in our range. Add as many bottles of wine, Teddy bears or other awesome gifts with no extra shipping charges to your gift - make it personal with their favourite things.





Our international Gift Basket business Geschenk & Korb is approved by the Ecommerce Europe Trustmark
Why use Gift Baskets Europe?
Beautifully, culinary convincing and unbreakable throughout Europe? Our years of experience and exceptional commitment is in each of our hampers. Maybe it is best to let some of our customer speak for us. Read our customer reviews
here.
For any more questions read our
FAQs.
We understand that ordering with a company overseas might scare you a bit. But because we are located in Europe esp. in Germany we assure you that online store laws are under the strictest regulations you can find. Your order is absolutely safe with us. When you scroll down you can find all legal information as well as the address of our warehouse and our names.
Gift Baskets for Europe
We are a Europe based company with our warehouse in the beautiful South of Germany in a city called Ravensburg from where we send all our gifts. Deliveries to our neighbour countries France, Belgium, the Netherlands, Denmark, Czech Republic, Poland and Austria arrive your destination in 1-2 business days.

For more information about corporate gifting in Europe check out our page about
Corporate Gifts in Europe.
International Gift Delivery
Our standard shipper is UPS. You will be informed about the status of your order. Using your order account you will also be able to check the status of your delivery. Click on the map to get a full list of countries we deliver to.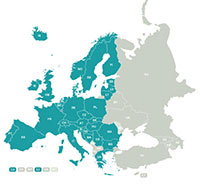 Baby Gifts for Europe

Christmas Gifts to Europe
All our Christmas Gift Baskets for Europe for 2016 are shown here. Have fun browsing through our beautiful Holiday gifts - you'll have a hard time to choose your favorite Christmas gift;)

Please make sure to order your Gifts and Gift Baskets delivery for the Holidays in time. The new Christmas gifts for season 2017 will be available by the end of Summer.

All delivery services do take up to three or more working days longer than during the rest of the year due to the amount of parcels on their way at this busy time of the year. The closer to Christmas you order, the longer your parcel will take. We always try to deliver as close to your desired delivery date as possible. We do consider extra time and weather conditions in Europe as well.
Check our past Holiday Season Gifts here.